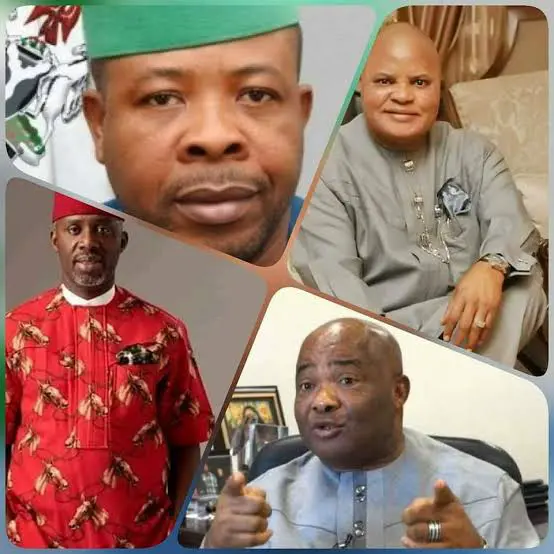 The political romance that has been in force since late 2019 between the camps of Senator Hope Uzodinma, the governor of Imo state and his gubernatorial predecessor, Senator Rochas Okorocha, who at present represents Imo west in the National Assembly appears to have come to a premature end. Their political friendship began after the two heavyweights saw a need to jointly fight Chief Emeka Ihedioha, the immediate past Governor, who was removed by the Supreme court on 14th January after just 6 months in office, came to an end as a result of accusation of sidelining of Senator Okorocha's supporters by Governor Uzodinma from the scheme of things in the state.
Timeline On The Relationship Between Okorocha And Uzodinma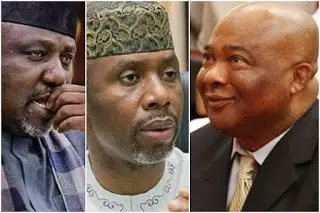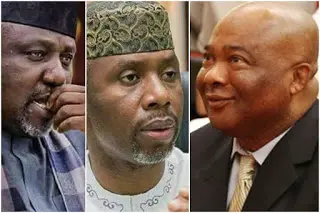 2015
Prior to the 2015 General election, there existed political rivalry between Chief Rochas Okorocha and Senator Hope Uzodinma and the rivalry was fierce.
Chief Okorocha, who as at that time was the governor of Imo state and running for second term in office, deployed all apparatchik of Imo state to throw his weight behind Senator Osita Izunazo of All Progressive Congress in order to stop Senator Hope Uzodinma, who as at then was the senator representing Imo West senatorial district (Orlu zone) and Peoples Democratic Party candidate at the 2015 Senatorial election from winning a second term. Similarly, Senator Uzodinma stood behind Chief Emeka Ihedioha, the PDP's 2015 gubernatorial candidate, in order to ensure that Chief Okorocha loses his second term gubernatorial bid. But after the 2015 election, both political heavyweights failed to stop each other from winning their respective elections as they both won their respective election.
Road to 2019
In 2018 when political heavyweights were preparing for the 2019 poll, Chief Okorocha anointed Chief Ugwumba Uche Nwosu, his son in-law and chief of staff, as his preferred successor and began preparations to see to his victory at the APC gubernatorial primary. Senator Uzodinma on the other hand defected to the All Progressive Congress and joined an a faction of the the party that was opposed to Chief Okorocha's bid to install his son in-law as successor.
At the APC primary, Uzodinma emerged gubernatorial candidate of the anti Okorocha faction and was fielded by the national leadership of the party. However, Okorocha refused to acknowledge Uzodinma as APC candidate but vowed that Uzodinma will never enjoy his support to be governor. He funded Chief Nwosu, his son in-law to defect to Action Alliance, where he (Nwosu) emerged the AA gubernatorial candidate. Meanwhile, Okorocha remained in the APC and was the party's senatorial candidate for Imo west district.
At the end of the 2019 gubernatorial shenanigans, both Chief Nwosu, the preferred successor of Chief Okorocha and Senator Hope Uzodinma lost to Chief Emeka Ihedioha, the candidate of the Peoples Democratic Party. While Chief Ihedioha came first, Chief Nwosu emerged first runnerup, while Senator Hope Uzodinma came 4th behind Senator Ifeanyi Ararume of All Progressive Grand Alliance, APGA. But Rochas Okorocha was successful in his own bid to succeed senator Uzodinma as Senator representing Imo west.
After 2019 Poll: The Alliance Between Uzodinma, Okorocha/Nwosu And Ararume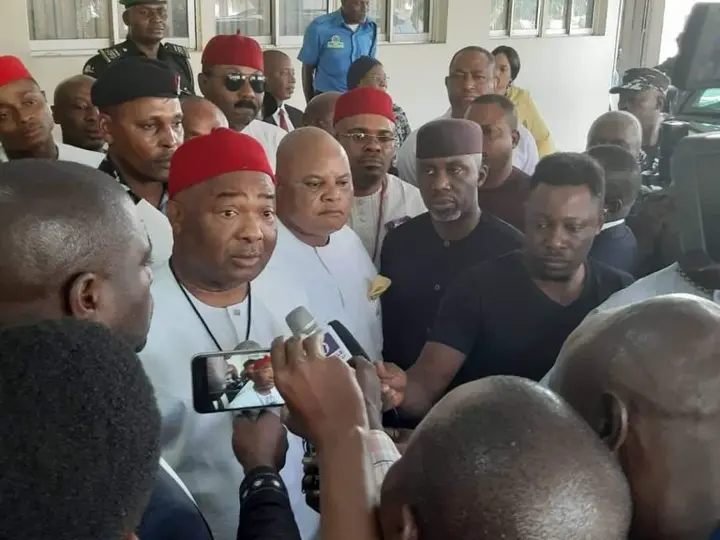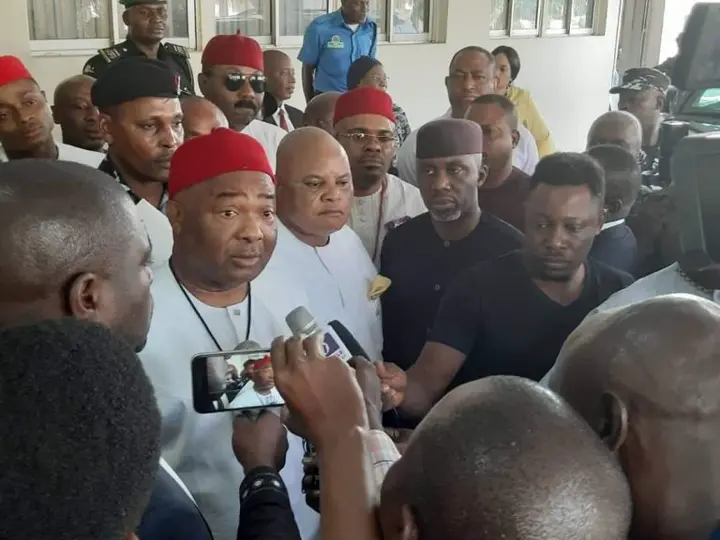 After the 2019 election, Chief Emeka Ihedioha was sworn in as governor, while the trio of Chief Ugwumba Uche Nwosu (AA), Senator Ifeanyi Ararume (APGA) and Senator Hope Uzodinma (APC) approached the Imo state election petition tribunal with each claiming they won the election. While they were at it, Ihedioha's government was already launching offensive at Chief Rochas Okorocha and his political dynasty; to the extent that Okorocha was declared wanted by Ihedioha's government.
While Ihedioha government was 'fighting' Senator Okorocha's dynasty, he was still putting up legal defence against his gubernatorial challengers. Fortunately for him, he won all his challengers at the tribunal and further defeated them at the appellate court; but his challengers took the battle to the Supreme court for final showdown.
In addition to Ihedioha's judicial victory at the lower courts, his major challenger and Chief Okorocha son in-law, Chief Uche Nwosu was disqualified by the Supreme court from participating in the gubernatorial election through a different case brought against him by a faction of Action Alliance (the platform under which he sought election); the faction claimed that he (Nwosu) was not validly nominated as their party's candidate. The Supreme court agreed with the faction that Chief Uche Nwosu was still a member and validly nominated candidate of APC while still standing as AA candidate, and held that his double candidacy is a contravention to both the provisions of the Nigeria constitution and Electoral Act, and disqualified him on that basis.
Days leading to the Jan 14th that the Supreme court had fixed to hear the respective appeals of Okorocha son in-law and candidate of Action Alliance, Chief Uche Nwosu; Senator Ifeanyi Ararume the candidate of All Progressive Grand Alliance; and Senator Hope Uzodinma of All Progressive Congress, against the victory of Chief Emeka Ihedioha of Peoples Democratic Party, all the three challengers entered into collective partnership to work for the interest of each other to unseat Emeka Ihedioha, who was seen as their "common political enemy". That alliance marked the first time that Senator Okorocha and Senator Uzodinma will be on the same page in politics.
On January 14th, the Supreme court in a unanimous decision upheld the prayer of Senator Hope Uzodinma of APC, invalidated the victory of Chief Emeka Ihedioha and declared Senator Uzodinma as validly elected governor of Imo state. In order to ensure that Senator Uzodinma victory wasn't jeopardized, both Uche Nwosu, the son in-law of Rochas Okorocha, and Senator Ifeanyi Ararume of APGA withdrew their appeal right there at the chamber of the Apex Court.
The next day, Senator Okorocha and Senator Uzodinma were captured in a video exchanging friendly banters, while Adams Oshiomole, the national chairman of APC was consumed with happiness. In addition to these, Okorocha's structure in both AA and APC collapsed with that of Senator Uzodinma, while Senator Ifeanyi Ararume led his structure in APGA into APC.
Beginning Of The End of Political Romance…
Signs that the political romance between the camps of Senator Okorocha and Senator Uzodinma became visible when at the first appointment made by Governor Uzodinma, he was accused by loyalists of Okorocha to appoint only his men and sidelined them.
As if that wasn't enough, Governor Hope Uzodinma dashed the hope of the 21 local government chairmen of Imo state when he nominated and appointed his loyalists to run local government administration in Imo state as Chairmen of local government Interim Management Committee. The council chairman who belong to the camp of Senator Rochas Okorocha and Chief Uche Nwosu and elected in August 2018, were suspended on May 29, by government of Emeka Ihedioha. They maintained that Governor Uzodinma has betrayed Senator Okorocha and breached existing peace path by appointing IMC chairmen when the life of their tenure still subsists. They have petitioned the leadership of APC and declared showdown with the Governor.
On the other hand, the camp of Senator Ifeanyi Ararume has been accusing Governor Uzodinma of deliberately working against the senatorial interest of Ararume in the forthcoming by election of Imo north senatorial district (Okigwe zone). Senator Ararume camp fingered the Governor as brain behind the recent defection of Senator Athan Achonu aka One Arm General from PDP into APC in order to have him run for the senatorial by-election against their principal.
Conclusively, all is not well within the Imo state chapter of All Progressive Congress ans a full political fallout is inevitable except something is done as soon as possible.
TamunotonyeInioribo (Tamunotonye Inioribo), the author of this piece can be reached at tonyebarcanista@gmail.com